Newspapers filled their headlines with it, the United States Senate investigated it, and Robert Redford made a movie about – it was the television quiz show scandals of the 50's.  The fallout began in 1956 when millions of Americans across the country sat in their living rooms, hunched over their TV dinner trays watching Columbia Professor Charles Van Doren answer questions on the game show Twenty One.  His final winnings totaled $129,000, the equivalent of about 1 million dollars today.  But his achievements proved false when he later revealed the producers fed him the answers to the questions before the show. The scandal not only rocked Mr. Van Doren's blue-blood world, but wiped clean the television game show genre for years to come.
At some point America forgave and forgot, because game shows now dot the dials with every click – Jeopardy, Who Wants to be a Millionaire?, Wheel of Fortune and Deal or no Deal to name a few.  Each show features your average Joe or Jane in a mental balancing act as they try to answer questions that will take them to the next rung of the money ladder. We tune in and we root for these contestants, perhaps because they represent us.  They represent the idea that there is a level playing field where anyone can be declared a winner and take home the riches. I suppose that is what upset Americans during the 50's scandal.  The notion that anyone could win was taken away, and they could no longer believe what they saw on TV as 'real' – they felt betrayed.  No one wants to be duped, no one wants to cheer and rally round anything to find out it was all false or fake – it makes us feel stupid.
Angela Rippon in the show Sun, Sea & Bargain Spotting Photo: REEF TV
So why would the BBC in 2009 present not one but two shows that were rigged?  Sun, Sea and Bargain Spotting on BBC Two is a game show featuring two competitors who bargain hunt in France and then attempt to sell their treasures in a London market for profit.  During one episode, the competitors were offered £25 for an acrylic panel from a purchaser who turned out to be a cameraman for the show.  Were they under a deadline to get the shot and didn't have any buyers?  I can only imagine what would go through the minds of the producers who are trying finish up an episode with the clock ticking – "Just get a bleedin' crew member to buy it, the audience will never know."
If that weren't enough, Trash for Cash, airing on BBC One had similar incidents of betraying the audience.  The show has regular people clear out their clutter and sell it for charity at a table outside their homes.  Here too, production staffed posed as customers.  Sound coincidental?  Well that's because both shows are produced by the same production company, Reef Television.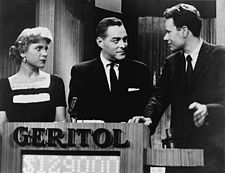 Reef Television was investigated by the BBC and was ordered to pay a fine and give an on-air apology.  Like the producers of Twenty One, who later went on to continue working in television, Reef Television will continue to create programming for the British Public.
It would appear, then, you can't get fired for lying.  The question is, would you risk it to get the show "in the can"?