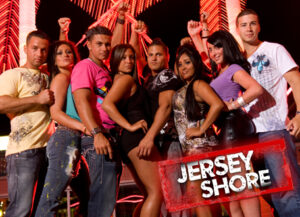 When it comes to pioneers in cable television MTV sits at the head of the wagon train.  They launched a network in an era when many of my dear friends were just beginning their TV careers; and like my friends who helped MTV blaze the trail, the network was young, ambitious, and created something brand new  – a niche network devoted entirely to music videos.  They put the uber in cool.  Many said they were crazy, "A channel just for music videos? It will never last." And they were right, it didn't.  While they had a good long run featuring only music videos eventually they had to change their programming to stay relevant. So the uber cool network changed with the times and created one of the first Reality TV shows, "The Real World." Still airing on the network today, it debuted in 1992 and is one of the longest running shows on MTV.  The plot: A group of strangers live together in a house as we watch their every move.  Voyeurism just didn't get any better.  And apparently neither did MTV's reality slate.  Times may change but when you've got a successful 18 year old 'formula' you continue to use it, even if that formula morphs into the "Jersey Shore"…
This new reality show features eight people living in a summer rental in, where else,  the Jersey Shore.  The plot: A group of strangers live together as we watch what happens. I watched. Here's what happened. The guys (and guys is the appropriate noun) in the house spend much of their time getting tans, however they clearly have 'sandphobia'.  Why else would they choose to achieve that golden bronze look with daily visits to their local tanning salon when they happen to be blocks away from the beach?  I can only assume they'd prefer not to have sand in their shorts.  They also take daily trips to the laundry.  Now this one puzzled me.  If you don't have small children, there's really no need for a daily trip to the Laundromat, unless of course you simply don't have enough underwear to last the whole week.  Here's a tip, cut back on your tanning treatments and take a trip to the local WalMart and buy some briefs. In addition to laundry and tanning there's the daily work out – they're young and their physiques need to be maintained for the nightly club hopping and hook up sessions.  On the other hand we have the women and they are a whole 'nother taxation on one's mental facilities.  In addition to the back stabbing, whining and drinking, there's enough bitch slapping and in your face altercations to stand up and say, "Oh no you didn't!"  It's truly remarkable that these people do what they do AND KNOW that their every move is being filmed.
After 18 years this Reality TV plot device seems to be working for MTV.  They were badly slipping in the ratings but Jersey Shore seems to be pulling them out of the slump and garnering some solid numbers with over 3 million people watching weekly. After watching several episodes I must admit to some surprise, but  I suppose it's like that pimple on your face, you just can't stop picking at it.
If you haven't seen the show, I dare you, no I double dare you– go ahead visit their website and try out a few episodes.  Me, I've seen enough, it's definitely time for a new Reality TV plot device.
MTV recently hired David Janollari as the executive VP of scripted development.  Mr. Janollari is the former WB Entertaiment President where he oversaw the development and launch of "Supernatural" and "Beauty and the Geek."  I'm looking forward to watching the new programming direction of the network under his helm.