MTV revolutionized the music video.  As I've said before, many of my friends began their careers at this upstart network devoted to music 24/7.  They not only revolutionized the definition of a niche cable network, they revolutionized the look with their logo.  The logo designed by Frank Olinsky and his team was commissioned by Fred Seibert. Fred was MTV's first creative director; he was also the President of Hannah-Barbera Cartoons, and the creator of NextNewNetworks.
I had the pleasure of working with Fred when I was producing for the first over the air subscription based TV network. He developed the logo, promotion and the marketing.  Those were the heady days of cable television when anything was possible, because most of what we were producing hadn't been seen before.  That's exactly how the MTV logo was viewed.  A logo that had the ability to change with the seasons, a mood, an emotion or a thought, a logo that was flexible but didn't lose its identity.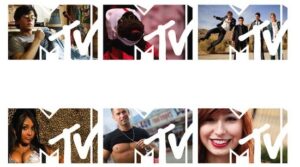 The chunky "M" couldn't be mistaken for any other network.  The logo also contained the words 'music television' as the tag line – after all that's exactly what the network was – all music all the time.  But that was then, and this is now and if you can find a music video on MTV today, you're either working the night shift or you rise before the sun does. For the past ten years the network has moved away from music to produce original programming that features real people.  Their programming has been devoid of music and now their 30 year old logo has undergone a change.  They've removed the tag line 'music television'.
While the actual programming for the past ten years has been stripped of music videos – with the logo change, it's official.  No more music in MTV.